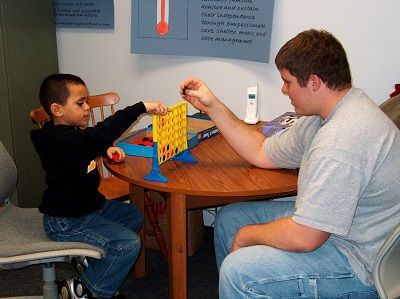 Serve on FPGD Committee
FPGD is looking for individuals to serve on the following committees.
Business Operations & Finance Committee

Congregational Relations Committee

Fundraising/Development Committee

Public Relations and Marketing Committee
Host Congregation Volunteer Opportunities
If you are a member of one of our host congregations listed here, you can join other members of your congregation in extending a helping hand of hospitality to our guest families during your congregation's host week. Volunteer opportunities include:
Setup and takedown
Rearrange furnishings to create space for sleeping and inflate air mattresses and make beds.

Put room furnishings back into their original places, deflate air mattresses, launder and store linens.
Prepare Dinner
Either at home or in the congregation's kitchen.

Typically, dinner courses are divided up between volunteers.
Evening Hosts
Socialize with guests or play games with children and/or adults.

Plan an activity for the children or help with homework.
Overnight Hosts
Join another member of your congregation and spend the night to ensure safety and in case of an emergency.

Wake guests the next morning and set out food for breakfast.
Driving the FPGD Van
Pick up guest families from Day Center at 5 p.m. Sunday – Saturday.

Return guest families to Day Center; Sunday-Friday by 7 a.m. & Saturday by 10 a.m.
Volunteer Drivers
Volunteer van drivers play a critical role in ensuring that our guests make
it safely from the Day Center to the host congregation and back again. To
be eligible to volunteer to drive our 15 passenger Variety Van, you must be
a member of one of the host or support congregations listed in this section
of our website. Our insurance company also requires that we conduct a
driver record background check annually on each person volunteering to
drive our van. A volunteer needs only the standard state-issued driver's
license to drive our van.

Please complete the Volunteer Van Driver Agreement and return to the
coordinator at your host or support congregation, so Family Promise of
Greater Des Moines can complete the driver record background check. You
may also scan and email the completed form to jcain@familypromisedm.org.

The Volunteer Van Driver Policy explains what information in the
driver background check would make someone ineligible to drive our van.
Those volunteering to drive our van for the first time MUST view the van safety video below and attest that you've watched it on the Volunteer Van Driver Agreement.

Volunteer van drivers are required to watch this video.

When application is complete, please provide the form to your host coordinator.