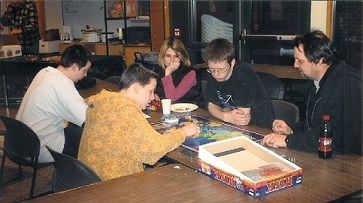 Host congregations play a vital role in fulfilling the mission of Family Promise of Greater Des Moines (FPGD). Host congregations provide our guests a clean, safe overnight shelter and nutritious meals for one week every three months.
Frequently Asked Questions about Hosting
How many host congregations are in our Network?

Currently Family Promise of Greater Des Moines has 14 Host Congregations. Each congregation hosts for a period of one week, four times a year.

What facilities do host congregations need to have for guests?

Facilities must include a dining area, a kitchen, bathrooms, and sleeping accommodations. Ideally, congregations provide a separate room, such as a classroom, for each family. Each family member is provided an air mattress, pillow, bed linen and blankets for sleeping.

How many volunteers are needed to host families for a week?

Approximately, 30 volunteers are involved during each host week. A primary coordinator oversees the Network program within each congregation. Volunteers are recruited from the host congregation to assist with activities such as preparing and serving the evening meal, providing hospitality during the evening hours, and staying overnight with guest families.

Can families' belongings be moved in the morning and moved back in the evening to permit the congregation to use the space during the day?

No. The sleeping accommodations need to be dedicated to the families for the entire host week. The beds and the guests' belongings must not be moved in the morning and put back in the evening. When guests arrive on Sunday, they come with their belongings and perhaps a few of their children's favorite toys. They want to arrange their space as if it were their home.

What are the insurance implications of participating in the Network? Does the congregation have to amend its policy?

The Network must carry general liability insurance. Congregations are usually covered by their own property and liability policies because FPGD is considered to be an outreach ministry, a regular activity of the church like a youth sleepover or Friday night supper. Most congregations find they do not need extra insurance to be hosts. To be certain, each congregation must contact its insurance agent.

Where do guest families stay during the day and on weekends?

Our Day Center is located on the ground floor of Westminster Presbyterian Church in the Beaverdale neighborhood of Des Moines. Families stay at the Day Center working with their Case Manager during the week. On the weekends, families do their laundry and spend time together.

How do we handle transportation?

A gift of a 15 passenger van from Variety-The Children's Charity enables FPGD to provide van transportation each morning and evening, seven days a week. The host congregation is responsible for recruiting volunteers to drive the van during the host week.

Isn't it difficult for families to move week to week?

Moving every week isn't ideal, but most families say that the homelike setting and the support of volunteers more than compensate for the moving. While host congregations change every week, the Day Center remains the same, providing continuity and a home base for families as they look for housing and jobs. The Day Center also provides a permanent address that families can use in their housing and job searches.

How are families referred to the Network

Shelters, public assistance offices, and other social service agencies refer perspective guest families to DMIHN. The intake process begins with a parent calling FPGD and answering a few brief questions. If the family meets the program qualifications and adequate space exits in the program, a shelter interview is set up with the family. Each family completes an application, and passes a screening process, including a criminal background check.

Who qualifies for shelter and services?

Ours is a sober program; families who are currently using drugs or alcohol are not eligible for the Network. Families with a member who has an untreated mental illness are not eligible for the Network. Families with a member who has a criminal record of drugs, theft or violent crime are also not eligible for the Network.

How long do families stay in the Network?

The family's initial stay is up to 30 days, however, a family's stay may be extended up to 90 days as long as the family is meeting their goals and making efforts to find employment, other income and/or housing.

How does the Network raise money?

As an interfaith effort that unites religious congregations in a common mission, FPGD relies on the generosity of the area religious community for up to 35 percent of its annual funding. Funds are also raised locally from individuals, foundations, and corporations.
Contact Jim Cain, Executive Director (jcain@familypromisedm.org) for more information.