Mission Statement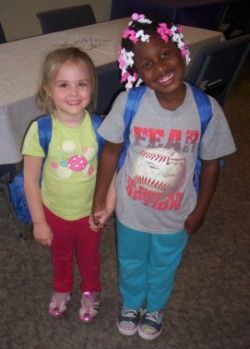 The mission of Family Promise of Greater Des Moines is "to mobilize our community to help homeless families achieve stable housing and income through compassionate care, hospitality and professional support."
Program Overview
Family Promise of Greater Des Moines (FPGD), formerly Des Moines Area Interfaith Hospitality Network, was incorporated as a non-profit organization in November 2002. The board of directors, with the assistance of a steering committee, took on the task of developing the organization, recruiting host congregations and volunteers, identifying a site for the Day Center and developing a strategy for transporting our guests between the Day Center and host congregations. In March 2003, the organization was recognized as a 501(c)(3) by the IRS.
FPGD sheltered its first family on October 4, 2004. In the fall of 2005, FPGD moved its Day Center to Westminster Presbyterian Church, which generously offered office space and an area for the Day Center at no charge. Today, Westminster's generosity saves FPGD more than $26,000 per year.
In November 2012, the Des Moines Area Interfaith Hospitality changed its name to Family Promise of Greater Des Moines to better reflect our affinity with Family Promise. This name also encompasses our promise to support and encourage our guests, whom we inherently believe all have the potential to be successful.
Services
Services offered to guest families include:
Health Care Assessment and Referral

Child Care/Removal of Barriers to School Enrollment and Attendance

Employment and Housing Search

Transportation Assistance
Affiliation With Family Promise

FPGD is an affiliate of Family Promise; a nonprofit corporation based in Summit, New Jersey. In 1986, the current director of Family Promise, Karen Olson, was moved to begin operating the first Interfaith Hospitality Network, located in Union County, NJ, following her interactions with homeless people while distributing food with her two sons. In 1989, Family Promise was founded on the belief that Americans are compassionate people who want to make a difference, and with the commitment to link those in need with those who want to help.
Family Promise provides assistance to religious and other community groups in developing, implementing, and maintaining network programs for families experiencing homelessness. While an affiliate, the FPGD is autonomous and is responsible for the management of its programs, and for its financial, fundraising, legal and other affairs.
Currently, there are 204 Family Promise affiliates operating in 46 states. Programming ranges from shelter and meals, to housing, child care, and/or job placement support.