Overview
"Building community, strengthening lives" begins with our volunteers who give of their time and talent to create an environment of dignity and respect in which our guest families can thrive.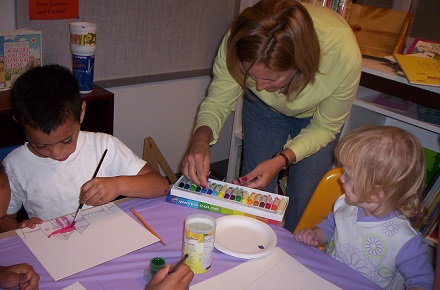 Whether giving an hour at one of our Host Congregations, planning a children's activity at the Day Center or making a larger commitment by helping out on a committee, your investment of time in the lives of the children and families we serve can change a bad day to a good day; it can even transform lives.
Volunteer Opportunities at Family Promise
Van Drivers

Volunteer van drivers play a critical role in ensuring that our guests make it safely from the Day Center to the host congregation and back again. To be eligible to volunteer to drive our 15-passenger Variety Van, you must be a member of one of the host or support congregations listed in this section of our website. Our insurance company also requires that we conduct a driver record background check annually on each person volunteering to drive our van. A volunteer need only the standard state issued driver license to drive our van.

Please complete this Volunteer Van Driver Agreement and return to the coordinator at your host or support congregation so Family Promise of Greater Des Moines can complete the driver record background check. You may also scan and email the completed form to jcain@familypromisedm.org. This Volunteer Van Driver Policy explains what information found in the driver background check would make someone ineligible to drive our van. Those volunteering to drive our van for the first time MUST view this 15 passenger van safety video and attest that you've watched it on the Volunteer Van Driver Agreement.
---